Product Description
Structure features :
1.The elestic element is made of nylon material ,which has high strength and wear resistance ,and is suitable for corrosive environment .The outer round surface of the steel driving wheel is quenched.
2.Type and dimendions og half-coupling holes and keyways .The marking method is according to the provisions of GB/T3852-1997″coupling hole and coupling type and size ",the 2 half coupling shaft hoke types can be arbitrarity combined.
3.Use temperature -20~+70.
4.The original model refers to the GB5015-85 series products.
| | |
| --- | --- |
| Standard Or Nonstandard: | Standard |
| Shaft Hole: | 190-300 |
| Torque: | 125000 |
| Speed: | 1080 |
| Structure: | Pin Structure |
| Material: | 45# Steel |
Samples:

US$ 359.9/Piece

1 Piece(Min.Order)

|
Request Sample
Customization:

Available

|

Customized Request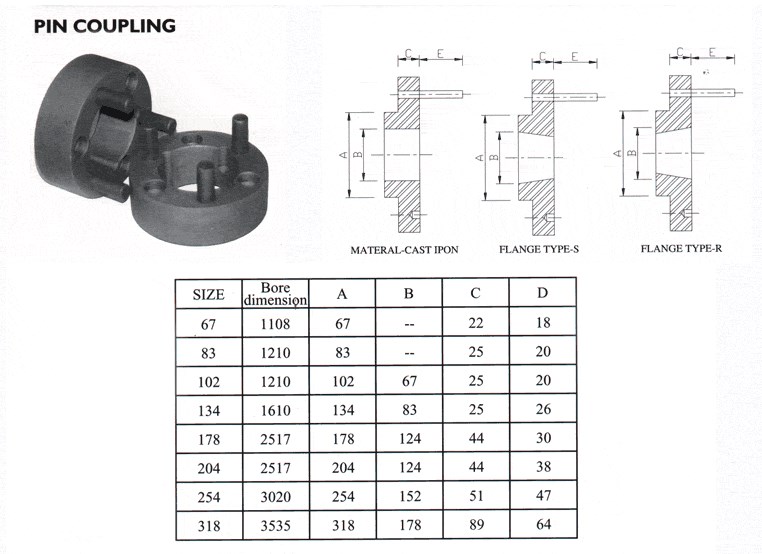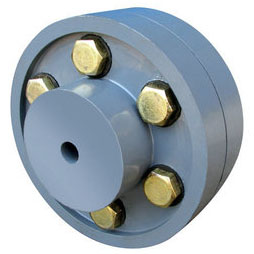 How Do Pin Couplings Compare to Other Types of Couplings in Terms of Performance?
Pin couplings offer certain advantages and disadvantages compared to other types of couplings, and their performance characteristics can vary depending on the specific application requirements. Below is a comparison of pin couplings with some commonly used couplings:
1. Gear Couplings:
Flexibility: Gear couplings are more rigid than pin couplings and may not offer the same level of misalignment capacity.
Torsional Stiffness: Gear couplings provide higher torsional stiffness, making them suitable for applications requiring precise torque transmission.
Shock Absorption: Gear couplings can handle higher shock loads due to their robust design and greater stiffness.
Maintenance: Gear couplings may require periodic lubrication and maintenance compared to maintenance-free pin couplings.
Applications: Gear couplings are commonly used in heavy-duty and high-torque applications where precise torque transmission is essential.
2. Flexible (Elastomeric) Couplings:
Flexibility: Elastomeric couplings offer higher misalignment capacity than pin couplings and can handle angular, parallel, and axial misalignment.
Shock Absorption: Elastomeric couplings provide excellent shock absorption, damping vibrations, and protecting connected equipment.
Torsional Stiffness: Elastomeric couplings have lower torsional stiffness compared to pin couplings, making them more forgiving in high shock load applications.
Installation: Elastomeric couplings are easy to install and require no lubrication, making them maintenance-free.
Applications: Elastomeric couplings are commonly used in pumps, compressors, and other machinery where vibration isolation is crucial.
3. Rigid Couplings:
Torsional Stiffness: Rigid couplings provide high torsional stiffness, ensuring accurate torque transmission.
Misalignment Capacity: Rigid couplings have little to no misalignment capacity and require precise shaft alignment.
Applications: Rigid couplings are used in applications where precise alignment is essential, such as shaft-to-shaft connections in high-precision systems.
Conclusion:
Pin couplings strike a balance between flexibility and torsional stiffness, making them suitable for applications with moderate misalignment and shock loads. They are often used in general industrial applications, conveyors, and light to medium-duty machinery.
When selecting a coupling for a specific application, it is crucial to consider factors such as misalignment requirements, shock and vibration loads, torsional stiffness, maintenance needs, and the level of precision required. Each coupling type has its strengths and weaknesses, and the appropriate choice will depend on the specific demands of the application.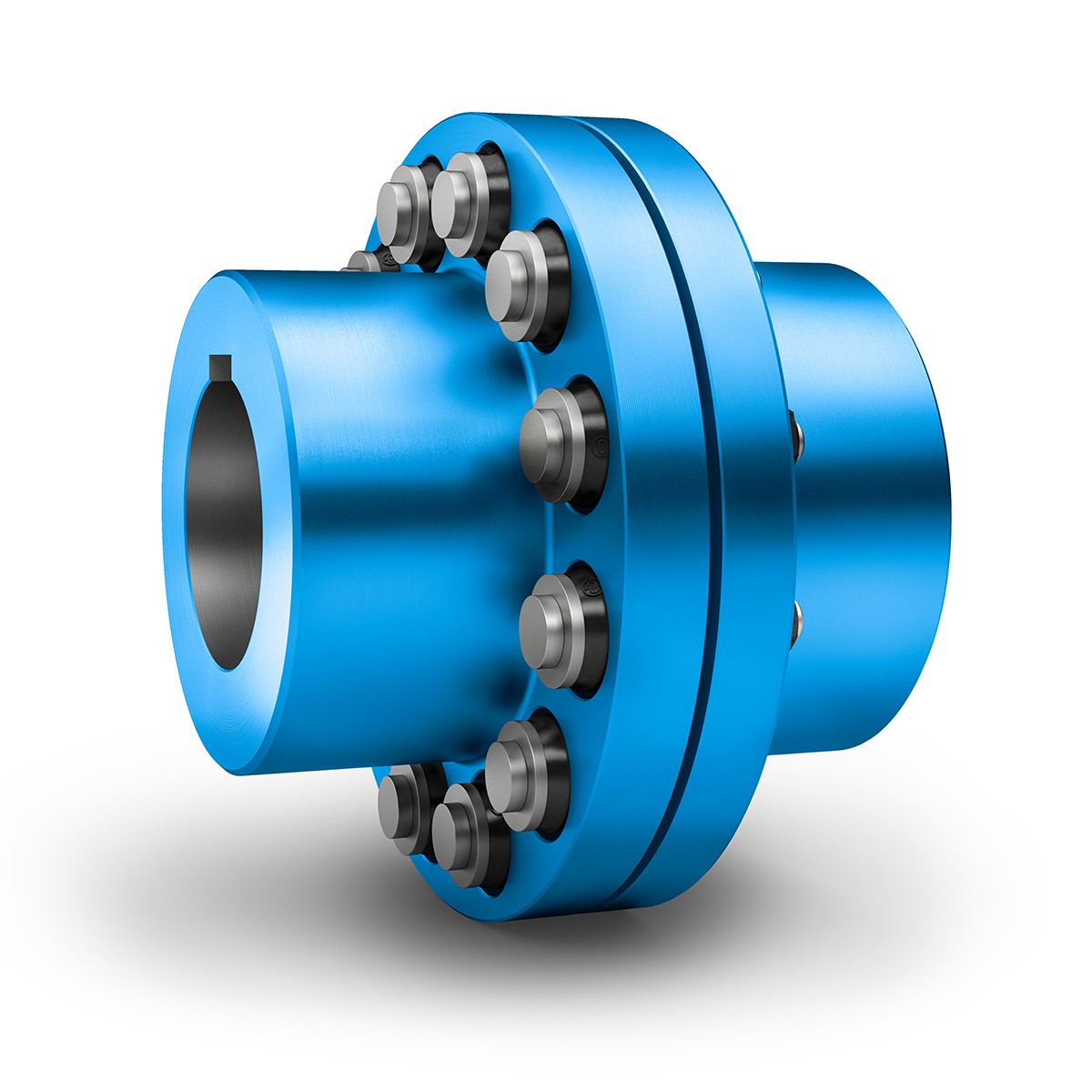 Impact of Pin Coupling on the Overall Reliability of Connected Equipment
A pin coupling plays a crucial role in enhancing the overall reliability and performance of connected equipment in various industrial applications. Its design and construction contribute to several factors that influence reliability:
1. Torque Transmission: Pin couplings efficiently transmit torque between the driving and driven shafts, ensuring smooth power transfer without slippage or loss. This consistent torque transmission helps maintain the stability and reliability of the system during operation.
2. Misalignment Compensation: Pin couplings are designed to accommodate small amounts of angular, parallel, and axial misalignment between shafts. By tolerating misalignment, the coupling reduces stress on connected equipment, bearings, and seals, thereby enhancing reliability and extending the service life of these components.
3. Shock and Vibration Absorption: In applications with dynamic loads, such as pumps, compressors, and heavy machinery, pin couplings help dampen shock and vibrations. By absorbing and reducing these impact forces, the coupling minimizes stress on the system and prevents premature component failure.
4. Simplified Maintenance: Pin couplings generally have a simple design, making them easy to install and maintain. The ease of maintenance ensures that the coupling can be regularly inspected, lubricated, and replaced when necessary, reducing downtime and increasing the overall reliability of the equipment.
5. Corrosion Resistance: Depending on the materials used, pin couplings can be highly resistant to corrosion, making them suitable for use in harsh or corrosive environments. This corrosion resistance prevents degradation of the coupling and its components, enhancing reliability and longevity.
6. Enhanced Durability: High-quality pin couplings are manufactured from robust materials and undergo precise machining processes. These attributes contribute to the coupling's durability, allowing it to withstand heavy loads and harsh conditions over an extended period.
7. Balanced Design: The design of a pin coupling ensures that the load is evenly distributed between the driving and driven shafts. This balanced load distribution reduces stress concentrations, minimizes wear, and increases the reliability of connected equipment.
8. Compliance with Standards: Reputable pin coupling manufacturers ensure their products comply with industry standards and regulations. Meeting these standards ensures that the coupling is designed and manufactured to specific quality criteria, enhancing reliability and safety.
Overall, a well-selected and properly installed pin coupling can significantly improve the reliability and performance of connected equipment. It helps prevent unexpected failures, reduces downtime, and contributes to the overall efficiency of industrial processes.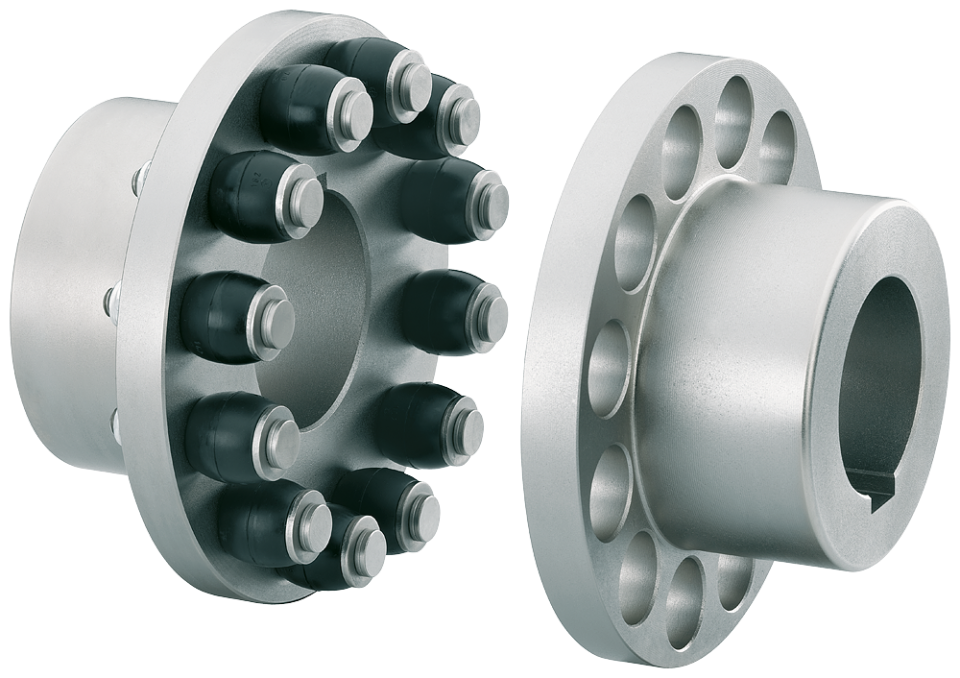 Limitations and Disadvantages of Using Pin Couplings
While pin couplings offer various advantages and are suitable for many applications, they also have some limitations and disadvantages to consider:
Misalignment Restrictions: Pin couplings can accommodate a certain degree of misalignment, but excessive misalignment can lead to increased wear and stress on the coupling components. They are not as effective at handling large angular or parallel misalignments compared to other flexible couplings like gear or elastomeric couplings.
Less Damping Capacity: Pin couplings have limited damping capacity, which means they may not effectively absorb and reduce vibrations in the system. In applications where vibration damping is critical, elastomeric or flexible couplings may be more suitable.
Noisy Operation: The rigid nature of pin couplings can lead to increased noise during operation, especially at high speeds or in applications with significant misalignment. This noise can be a concern in environments where noise levels need to be minimized.
Higher Maintenance: Compared to maintenance-free couplings like certain types of elastomeric couplings, pin couplings may require more frequent inspection and maintenance. The pins and other components may experience wear over time and need replacement.
Environmental Limitations: Some pin couplings may not be suitable for use in corrosive or high-temperature environments, depending on the materials used. Stainless steel or other corrosion-resistant materials can help mitigate this limitation.
Size and Weight: In certain applications, the size and weight of pin couplings may be larger and heavier compared to other types of couplings. This can be a consideration in applications where weight is a concern or space is limited.
Despite these limitations, pin couplings remain a popular choice for many applications where their advantages, such as simplicity, durability, and cost-effectiveness, outweigh their disadvantages. It is crucial to carefully assess the specific requirements of the application and consider factors like misalignment, vibration, maintenance needs, and environmental conditions when selecting a coupling type.



editor by CX 2023-08-22